Abandoned carts are a common sight for e-commerce retailers. And no matter how optimized your checkout process is, some potential customers are going to leave their carts behind. 
So instead of looking at the checkout process itself, it's time to look forward, to the actual payment process. You may be surprised to learn that over two-thirds of young buyers don't even have a traditional line of credit, like a credit card. That is a massive demographic that you could be missing out on. 
Sezzle is a great way to get your audience comfortable with the checkout process so that they can take the next step with confidence. 
What is Sezzle? 
Sezzle offers consumers the option to Buy Now, Pay Later. When you break up a payment into more manageable installments, it attracts users with its simplicity and the ability to make payments interest-free. Consumers know exactly how much they're going to pay and how often. 
With Sezzle, most orders are broken down into four equal payments over six weeks with each payment being due two weeks apart. The installments are automatically scheduled, so users don't need to worry about logging in and frequently checking to see when their bill is due. 
Sezzle works by encouraging users to be more financially responsible. Because there are no fees and no interest, customers are more likely to act and complete their purchase, minimizing the possibility of an abandoned cart. 
According to Sezzle's own studies, e-commerce companies that add Sezzle to checkout see an average of a 15% increase in conversion rate as well as a nearly 50% drop in abandoned carts and a 30% increase in average order value – numbers that any e-commerce business would find absolutely irresistible. 
What's more, Sezzle works with many leading e-commerce platforms including WooCommerce, Magento, BigCommerce, Shopify and more. 
But although Sezzle alone is very powerful, there's still the issue of promoting your BNPL offers via Facebook. It's easy enough to upload your feed and product images, but how do you inspire customer confidence and increase clicks and conversions by letting shoppers on Facebook know that you offer a pay in installment option? 
How to Use Sezzle to Increase Conversion Rates
Waterbucket is your answer. 
Waterbucket is a unique add-on that works with Sezzle and other BNPL services and allows you to leverage your Shopify product feed in Facebook's Dynamic Product ads to create ads like this: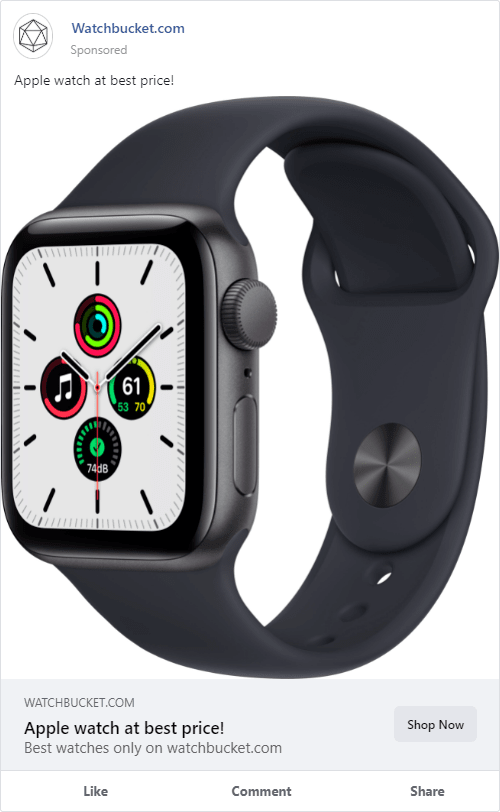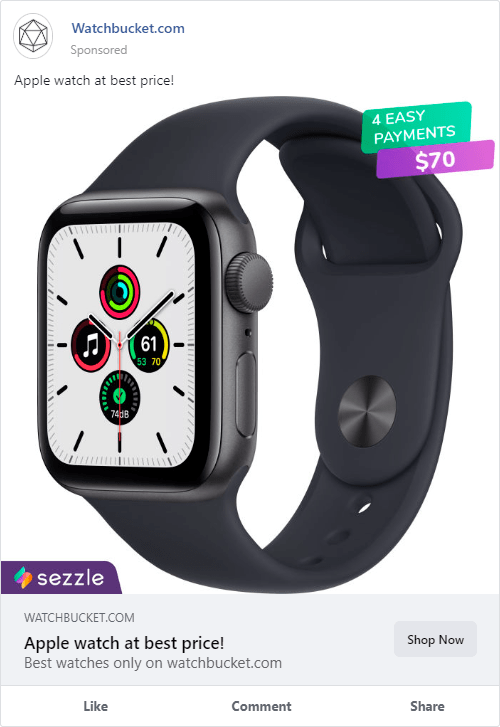 The best part is that Waterbucket handles all of the heavy-lifting in the backend. You simply upload your product feed, choose your template to tie the ad imagery to your brand and style, and let Waterbucket handle the rest. Whether you have hundreds of products or thousands, Waterbucket handles it all
Waterbucket seamlessly updates product pricing in real time, so that customers always have the most accurate and up-to-date pricing. No need to download and meticulously update product photos and graphics. It always fetches the latest pricing details and does the math, so that customers precisely what their payments would be through that chosen BNPL service.
In addition, new templates are released every month, so you're sure to find a unique look that perfectly captures your brand. Many Waterbucket users have reported conversion rate increases of nearly 50% – and that's in addition to the conversion gains promoted by Sezzle!
How much does Waterbucket cost?
Waterbucket pricing is based on the total number of products (including child products/variations). The good news is that you can try Waterbucket risk-free for a full 7 days and see how well your feed performs as a result when you add in the ease of use of Sezzle's BNPL along with an accurate and eye-catching product image.
But to sweeten the pot even more, we've got an offer that you'll want to take advantage of right away. Try Waterbucket right now, and if your conversions don't increase by at least 20% as a result of using it, we'll extend your free trial until they do! We're confident that you're going to see AMAZING results with Sezzle and Waterbucket, so sign up now to grab this limited-time deal while it's still available!
Plus, even if you don't use Sezzle (or are wondering which BNPL service you should choose), you'll be glad to know that Waterbucket works with all major BNPL providers including Affirm, Klarna and more! Try it now, risk-free and see for yourself how using Waterbucket and Sezzle can give you the competitive edge on Facebook.