As one of the leading companies in the fintech world, AfterPay has carved out a name for itself in the Buy Now, Pay Later (BNPL) arena, and rightfully so.
It's business model is simple, yet profound: reward customers who pay on time. This allows consumers to get what they want or need without having to deal with the hassle or headache of hefty interest charges or added fees.
By allowing consumers to split a larger payment into four smaller ones (both online and in-store), AfterPay makes large purchases more affordable over time.
A simple promise, yet the real question is how it affects key indicators of e-commerce and online shopping health – things like consumer confidence, brand loyalty, the customer experience and much more.
Fortunately, AfterPay has done some studies itself to discover the answer to these and other important questions. Let's take a closer look at their findings and how using AfterPay can help increase conversions on your e-commerce website.
Everyone Loves Buy Now, Pay Later Plans
At the core of the BNPL movement is the fact that these types of plans make life easier for everyone. Consumers love the peace of mind and ease of flexible payments. Online retailers like the ease of management and the larger total average order value that results from that flexibility.
According to RBC Capital Markets, a BNPL option increases retail conversion rates anywhere from 20-30% while raising the average ticket size between 30-50%. AfterPay itself has seen conversion rates on retailers that use it increase anywhere from 20-30%.
What's more, according to Chris Ventry, vice president at global consultant group SSA & Co., Buy Now Pay Later "eliminates the ability-to-pay roadblock". He continues, "[f]or those using debit cards, the potential for an extended interest-free payment schedule through BNPL is enticing…ultimately enticing enough to drive conversion."
Plus, the added revenue and improved conversion rates makes the transactional cost that retailers incur worth it. Although retailers pay a 3-5% transaction fee to AfterPay, compared to the transaction fees charged by traditional credit card companies, the extra revenue far outweighs the cost.
Why Choose AfterPay?
According to AfterPay's on website, retailers who use their BNPL solution see:
A 20% increase in cart conversions on average
More repeat customers
Increased AOV of up to 40%
30% more new customers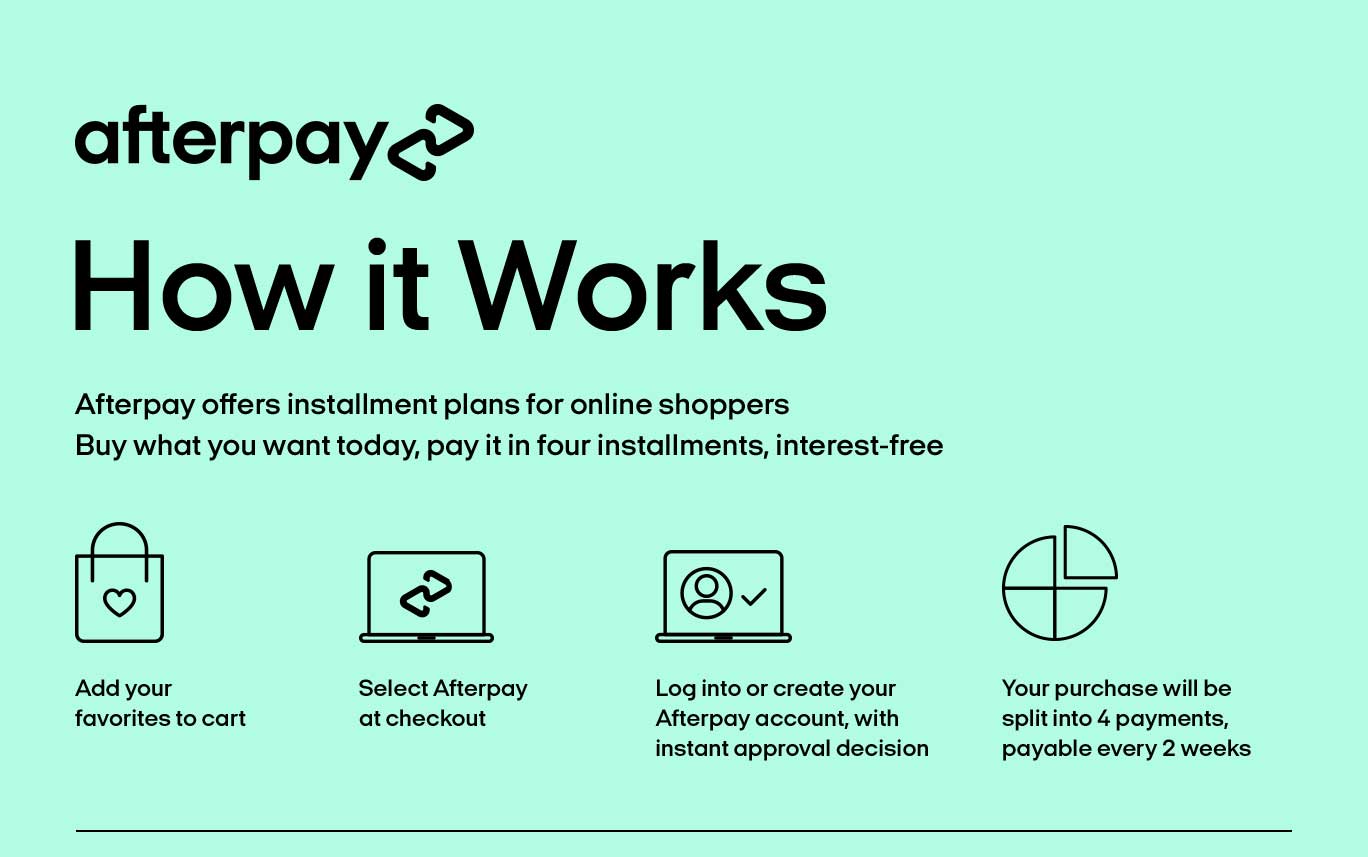 If you already use AfterPay, but you're struggling to let your customers know, at a glance, that they can buy now and pay later, Waterbucket is here to help.
Letting Your Customers Know You Accept AfterPay
Waterbucket is a unique online platform that, in just three steps, can transform your Facebook dynamic product ads by overlaying unique graphics showcasing the Buy Now Pay Later option using AfterPay (or one of many other BNPL platforms).
With AfterPay's focus on "pay in 4", you can use Waterbucket to overlay your Shopify product feed with graphics that match your brand, all while pricing updates automatically so that consumers always see the most accurate details directly in Facebook.
Plus, Waterbucket allows you to choose a BNPL design that matches your brand and style, with new templates available every month. And getting started takes just three simple steps:
Choose your BNPL provider (Affirm, Afterpay, Klarna, etc.)
Let Waterbucket create your Facebook DPA feed from Shopify
Upload your feed to Facebook
Not only can using Waterbucket make it easy for your customers to see your BNPL options at a glance, but it also helps you build lasting brand loyalty and a pleasant customer shopping experience – all hands free and all automatically.
Benefits to Using AfterPay to Increase ECommerce Conversions
By using AfterPay as your BNPL provider, you can also increase conversion rates by letting your customers take advantage of AfterPay's own site features, such as their Express Checkout – a streamlined, optimized checkout process that makes it even easier and faster to pay in installments.
According to AfterPay, the ability for consumers to check out directly from a product page or the shopping cart means 75% fewer form fields to fill out, leading to a 50% reduction in the time it takes to checkout.
This, in turn, has a ripple-effect on cart conversions, doubling or even tripling conversion rates along with casting a wider net to attract a larger number of customers who like the flexibility that buy now, pay later provides.
Get Started with Waterbucket and AfterPay
You can start seeing numbers like these in your own e-commerce business by starting your 7-day free trial with Waterbucket today. If your conversion rates don't increase by at least 20% as a result of using Waterbucket overlays on your Facebook dynamic product ads, we'll extend your free trial until they do! It's a simple guarantee that can have a lasting effect on your conversion rates and your e-commerce revenues.
The best part is that it's easy to get up and running with Waterbucket and start seeing impactful, measurable results. No need to hire a graphic designer or waste time loading and reuploading your product images or fetching feeds again and again to get the latest, most accurate pricing.
Let Waterbucket handle all the heavy lifting of optimizing your product feed with graphics that match your brand and theme while attracting customer attention and giving them the flexibility and ease of use of a service that puts what they want and need within their financial reach. Waterbucket's intuitive AI walks you through the process, step-by-step, so that you can free up your time to do what you do best – marketing your business!